So Friday night I spent at Sid's Tattoo Parlor in Santa Ana, and I spent the majority of my time there knitting or watching Angelina. What was I knitting you ask? Well I was knitting this awesome bag I've decided I need, it's going to have a picture of Frankenstein on one side and the Bride of Frankenstein on the other. Here's my progress so far:
I think I'm going to make it into an over the shoulder bag, like messenger style. I need a good knit bag like that, and I'm totally going to line it with some awesome halloween fabric!
So why on earth would I spend the entire night in a tattoo parlor knitting and watching a 3 year old? Well for a new tattoo of course! And can I just say that I love it!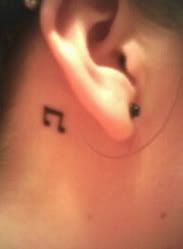 How could you not love that? I sure do, so freaking cute, and now I am officially one of the freaky people with tattoos on their necks. We should start a club or something.
So this morning I got up and went and worked out, which was really good, I'm all hyped now, though I'm sure I'll be dead by the time I get home from class tonight. But when I got home from the gym after my shower and such, I was really bored and decided that my bangs were too long, so I cut them, and let me tell you, I love them this length.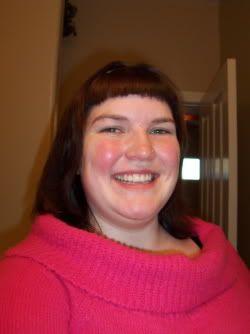 And my cute pose:
Ok that's it for today I'm thinking though I may have more to post later tonight, but I'll most likely wait until the morning.