Ok, let's start off this post with the fact that my parents are awesome and got me a digital camera for Christmas, so now you'll be seeing lots and lots more pics from me. Ok so first off we have some of the pets, have I mentioned I have the cutest animals ever?
Here's Ninna, also known as Sienna and lots of other sweet and not so sweet names, she's my little long haired mini Daustchound:
Next is my Brittany, Noli, she's 11 and acts like she's 2, I love her so much, she's my little girl, we got her when I was 12, I'm gonna be sad when I move out again, it's hard leaving your children behind. Anyway, here she is:
So now is my favorite animal in the house, she may be the smallest, but she rules with an iron fist. Here's Tinkerbelle, more affectionatly known as Tinklebiddykins, but that's because everything in my life has to have a cutesy name:
Here's her bitchy, kickin ass and taking names pose:
And here she is in her natural princess state: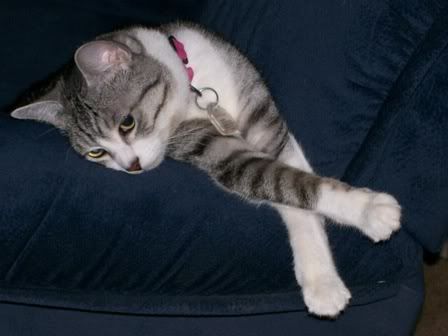 So, this year for Christmas/Yule I got a new tree, it's white and sparkley and the last one that any of the Targets in Orange County had, I love it, it's so me, and everyone that saw it agreed that it was an awesomely classy tree. I kept it in my loft, but I've decided for next Christmas in the new house (did I mention I'm moving) it needs a handknit tree skirt, and I think I've found just the one, but that's another post all together. So anyway, I went with a dark blue, siver, white theme, I couldn't bring myself to have black on the tree, but I'm pretty sure that's gonna change next year, I love the idea of a black and white Yule. Here's the tree and some of my favorite ornaments on it: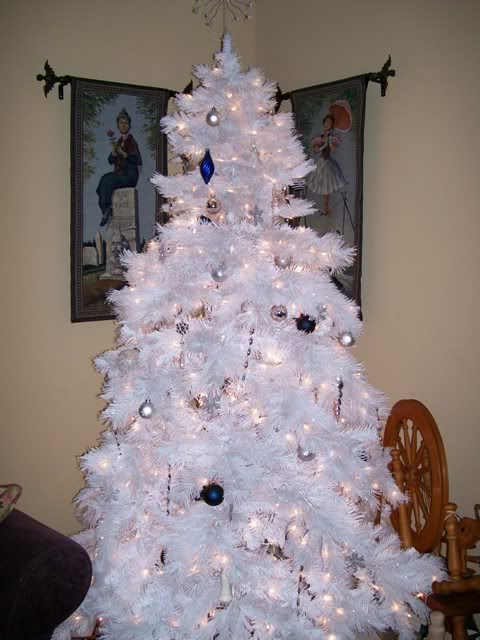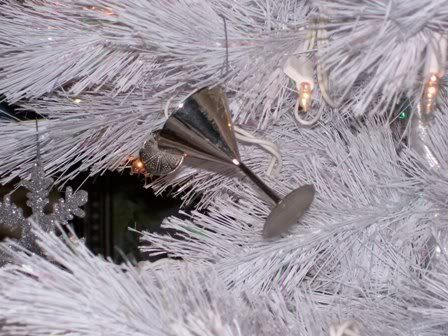 And the awesome, awesome topper:
Ok, so about a year ago I knit this amazingly wonderful scarf. It was the Skull Illusion Scarf from Ysolda (http://www.ysolda.me.uk/wordpress/index.php/skull-illusion-knit-scarf/) I did 6 repeats of the skull and crossbones in Teal and Fuschia Cascade 220, it's well over 6 feet long, and warm and amazing. Well when I was done, I decided I needed some fingerless gloves that matched, and so I made those too, they are so cute, I love them, and since it's been so freaking cold in Cali this year I've gotten a crap load of use out of them. I don't have a pic of the entire scarf, but I have pics of the skulls and if you look at it normal, it doesn't look like it has skulls at all.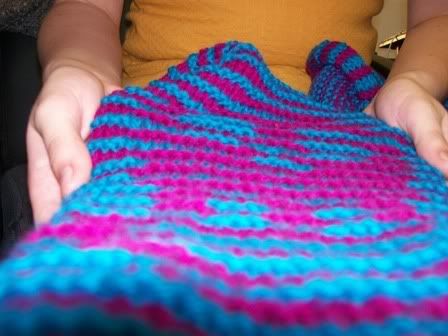 SO my Dad's side of the family is wierd in that I'm the youngest grandchild by like 14 years, meaning my cousin Jason (the next oldest is now 37). But that being the case, I don't have many babies to knit for on that side of the family. My cousin Jason and his wife Trish, just had a baby boy right after Christmas, so I thought a hat and socks were in order. Jason told me that he wanted red, so I found this pattern (http://heyjulie.blogspot.com/2006/08/cabled-baby-hats.html) and decided it was too cute to pass up, then I decided to do some matching socks, but with blue toes and heels, the hat and red parts of the socks are in Bambusoft in Red and the blue is Wildfoote in Peacock (I think). I would totally recommend this yarn, it was probibly one of the softest yarns I have ever knit with and it's machine washable. Here's the hat and here's Jason, John (the baby) and me with the socks and hat: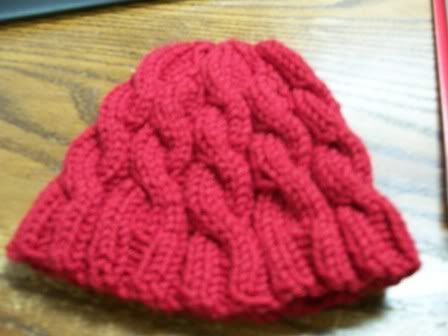 I love this kid, seriously, he makes the cutest little noises, and is so well behaved. Of course, he was only a week old when I saw him, but still. Oh and when we went out to see the baby in Fontana, there was snow and ice on the ground. Umm it's Fontana, it's not supposed to snow there, what's with this crazy freaking weather? My parents got a rash guard and board shorts for John since Jason and his brother Ted love to surf, he should be able to wear it next summer, but they are really starting to have some cute things for boys, I was impressed:
Aren't they the cutest two people you've ever seen? That kid is going to be so amazing looking. So I held him forever, and could have continued all afternoon, but we had to leave. But it was a little creepy looking at the pics how natural I look with this kid.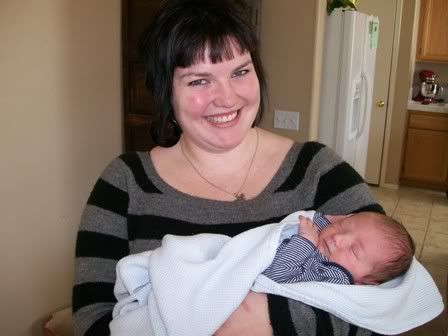 Ok and just because I can, here's some more pics of John, who is apparently going by his middle name, Warren, still cute:
Why is it that Babies are so damn cute?
Also, this weekend I baked a pie, I made other food too, but the pie turned out great, it was Whiskey Apple pie, the crust got a little brown, but still I was proud:
And there are 20 reasons they shouldn't have given me a digicam, but what can I say? I love takin the pics, and here's one more just for good measure it's of my desk gnome, who I've decided to name G-nome, cuz he's pretty awesome and I think he's a great gansta: