to update. I got the cutest package from my PRGE partner.
Lovely alpaca yarn, some cuter than crap cards and an issue of Interweave Knits, the fall one. So great, Thanks!
I also finished a hat in like 2 days, but I love it. It's from Zona's pattern, I don't know where her blog is, can't find it, I'll post it later but here's the pic.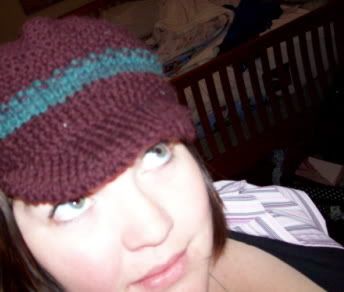 Ok and today I was way bored so I did this:
As for knitting, I just finished part of M's Christmas Gift, can't post that though and I'm about 3 inches into the sweater for my Dad, he better wear this sucker. Also we made 8 million cookies on Saturday, but JoQueta (my cousin) told me she'd love me to knit her something. YAY she's tiny! Size XS so many cute things I could knit for her! That's it for now I think.