Between posts. So I seriously shouldn't be allowed to blog, I take too long to update, I've finished like 830 projects since my last post, ok not really, but I have pics of the blanket I did for my cousin Melissa, pics from the wedding, and pics from San Antonio. I also need to update you on everything I'm knitting and that I've finished, though I don't have pictures of most of it yet.
Ok, here's the pics of the blanket, I loved it, didn't want to give it away. But I'm hoping they love it too.
There's a close up of one of the pineapples, it turned out wonderfully, YAY!
Ok pics from the wedding.
That's my lovely family sitting at our table.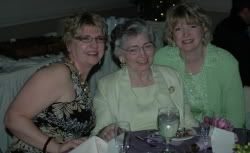 There's my Mom, her sister and my Grandma! They are so cute, and all look alike, don't you think?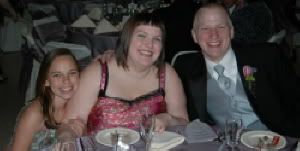 Zoie, Me, and my cousin Patrick. I have to say Pat is one of my favorite people, he freaking cracks me up.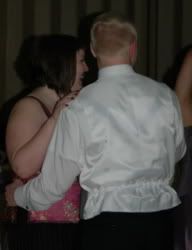 They made Pat and I dance together, there weren't very many single people at the wedding, and there's a poing at which it just looks wierd if you're dancing with you Dad at 22 years of age.
Then the next day we went to the river walk and took a water taxi and both Zoie and Zach fell asleep on me: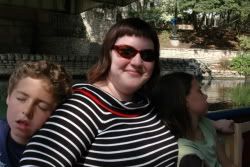 I love those kids, they are so adorible.
Here's Zoie eating a huge beef rib, that kid cracks me up, this is what happens when you only eat healthy food your whole life:
Ok so onto knitting, I finished the Mariah, but I have yet to put the zipper in, I need to find a 22" seperating zipper, I will soon enough. It looks great and I'm in love with it, though it's a little too big, but I'm sure it'll work out just fine.
Right now I'm working on the Ubernatural by Stephanie Japel, but I'm knitting it in Bright and Lofty by Red Heart in the color Ocean, I only have one sleeve left, so it should be done this afternoon, which is good because I really want to wear it to Disneyland tomorrow.
I'm working on a super secret project for Kyle right now for his birthday, but I can't say what it is, just in case he reads this.
I also knit my first felted item, I did the Flowers on a Grave hat from theanticraft.com, it turned out so great! I love it so much, I wear it all the time now.
And I finished the skull illusion gloves from Ysolda.me.uk, and I made a pair of matching fingerless gloves. I've been on a role lately. I really need to take some pics, I'll see what I can do this weekend.