Ok so with my parents gone all weekend, I have gotten about 13 inches into the 1st sleeve of my Mariah sweater for the Knitting Olympics. Here it is in all it's glory, note the awesome "oriental rug" from target!
That's it in it's entirety.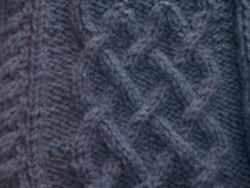 And there's a close up of the cables, so keep in mind that this is my first cabled project. The color in the first one is WAY more acurate. I cast on friday at 2, like I was supposed to, though I was tempted to cheat. and then I realized I had screwed up the cables in the ribbing on Saturday night, so I had to frog the entire thing! But I figure this is off to a pretty darn good start, especially for not working on it at all on Monday night. Why didn't I work on it Monday night? Well because my parents got home from Kenya. I got some awesome gifts that I totally forgot to photograph before this blog, but I'll post them later. But my Mom brought back Kyle a "beating stick" (ok I don't think that's the real name, but that's what I call it.) It's freaking awesome!
The beating stick in all it's beatingy goodness.
Kyle wielding (who knew Kyle could wield?) the beating stick in his office.
Ok so I also talked about (I think, I'm too lazy to check) the cigar gloves I knitted for Tyler for his Trip to New York, well I finally have a pic uploaded that I took of me wearing them, although they are WAY too big for my little hands. He promised me pics of him wearing them, so we'll see when I get those, probibly next time we hang out, who know's when that's gonna be?
So I'm hopinig to get major knitting done in class tonight, gotta love taking classes like History of Rock, lots of knitting time. There is some lady in that class who's doing some needlepoint stuff on a HUGE framed thing during the class, so my knitting isn't hardly as distracting as that. So we'll see if I can make my goal of finishing my 1st sleeve by friday night. My Aunt comes into town then, and I figure that give me lots of time to knit and talk to her.
Ok also, went to lunch at California Pizza Kitchen today with my Dad, and I saw this lady wearing the coolest sweater, it was a green stockingette 3/4 sleeve sweater with a dark grey fold over neck line, totally want to make one like that! But for my last tid bit here, I leave this comic for you all, cracked me up when I read it: