So I went to the Flogging Molly show like 3ish weeks ago and here is my souvinear:
Gotta love mosh pits. I was pretty proud to be a woman that night though, I mean there were some hardcore chicks in the pit! It was awesome, until the last song when I rolled my ankle. As the medic took off my shoe and sock to wrap my ankle, all I could think of was how happy I was that I had painted my toe nails 2 nights before. Sometimes we come up with stupid things to think. The only thing that bugged me about this show was that there was no booze, WTF!?!?!? It's an Irish band, we like to drink! Well here's the stage, not that you can see anything really, but I felt I needed to include it: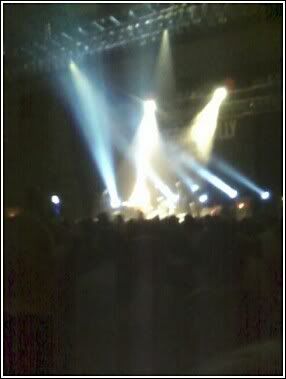 So as for knitting, I had to re-knit the left front of my central park hoodie because this little darling pulled it out: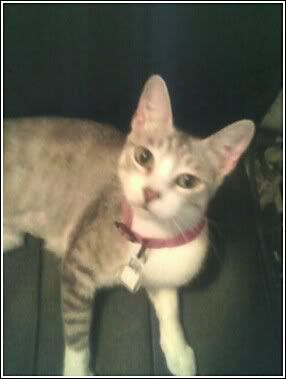 But really she's the love of my life, how could you not love her. She's so cute. But seriously, who needs kids when you have a cat? Holy crap she's crazy.
Works been crazy and I haven't been getting nearly enough time to knit lately, makes me sad, but I'm working on some felted pumpkins from knitty, so those should be awesome. I'm thinking I'm going to start taking voice lessons again and go back to school for music ed, I mean I'm so happy when I'm working with my crazies at Uni High. I love those kids, but they're a little odd. I think that's it for now, more updateage later.